New Delhi:
India has recorded 961 cases of the Omicron variant of coronavirus across 22 states and UTs so far out of which 320 people have recovered or migrated, according to the Union Health Ministry data updated on Thursday. Delhi recorded the maximum number of 263 cases followed by Maharashtra at 257, Gujarat 97, Rajasthan 69 and Kerala 65.
With 13,154 people testing positive for coronavirus infection in a day, India's total tally of COVID-19 cases rose to 3,48,22,040, while the active cases increased to 82,402, according to the data updated at 8 am. The number of deaths climbed to 4,80,860 with 268 fresh fatalities, the data stated.
The daily rise in new coronavirus infections has been recorded below 15,000 for the last 63 days now.
Here are the LIVE Updates on Coronavirus cases in India:
What we are witnessing is a rise which could be a part of the rise in cases that we are seeing globally due to the Omicron variant: Centre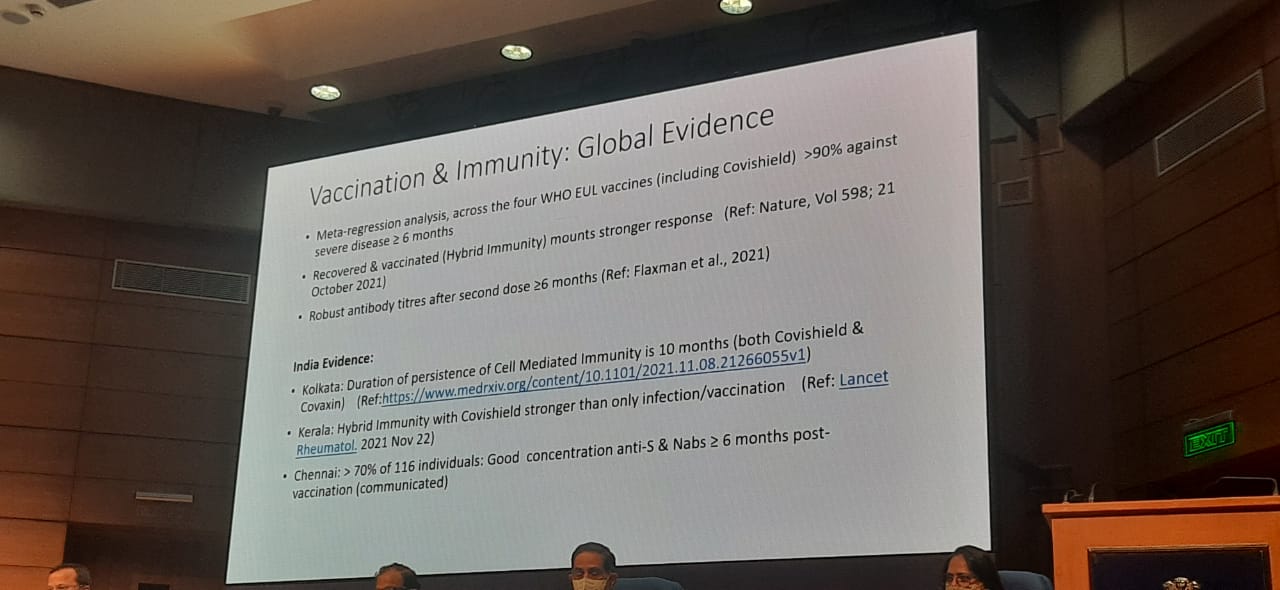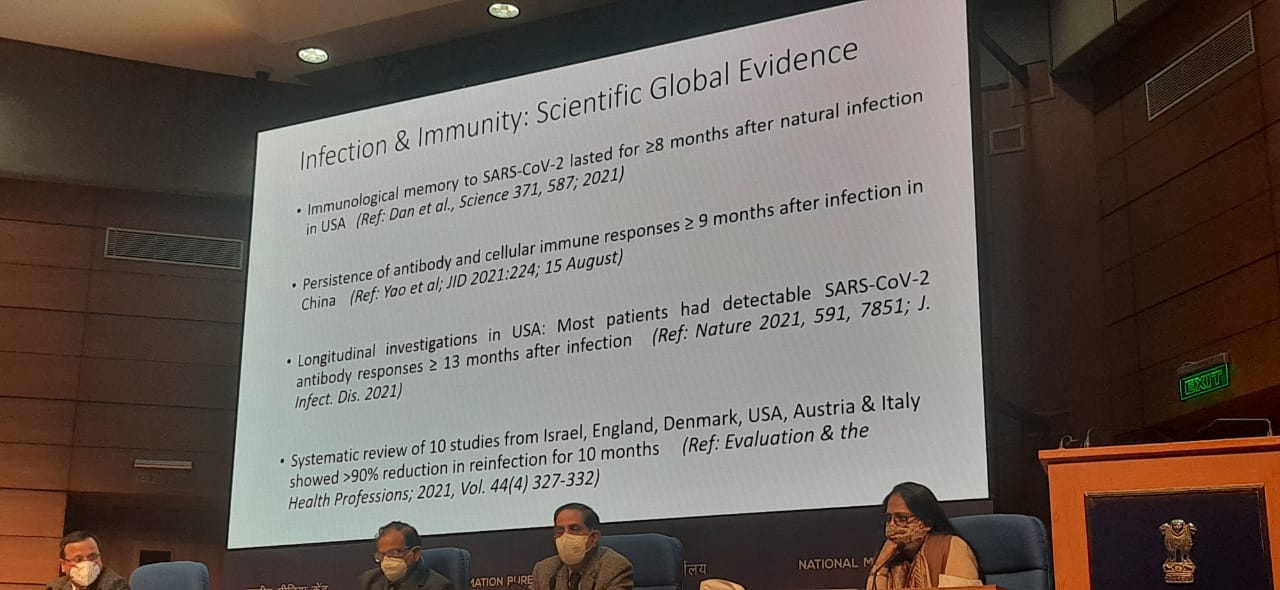 Maharashtra Covid Task Force Meeting Underway
Maharashtra Chief Minister Uddhav Thackeray is meeting with the state's Covid Task Force. The Task Force will advise the government on restrictions amid rising cases of Covid in the state. It will also discuss the implications of the Omicron variant which is driving up cases. The genome sequencing of data will also be discussed at the meeting. Maharashtra will formulate the management of the third wave of the pandemic after the meeting.
If needed, states may use provisions of Section 144 to enforce physical distancing. MHA has released guidelines, wherein if despite announcing Covid curbs, if these are not followed, then provisions under the relevant section of the law will be applied against those who violate it. Action will be taken at a state level: Centre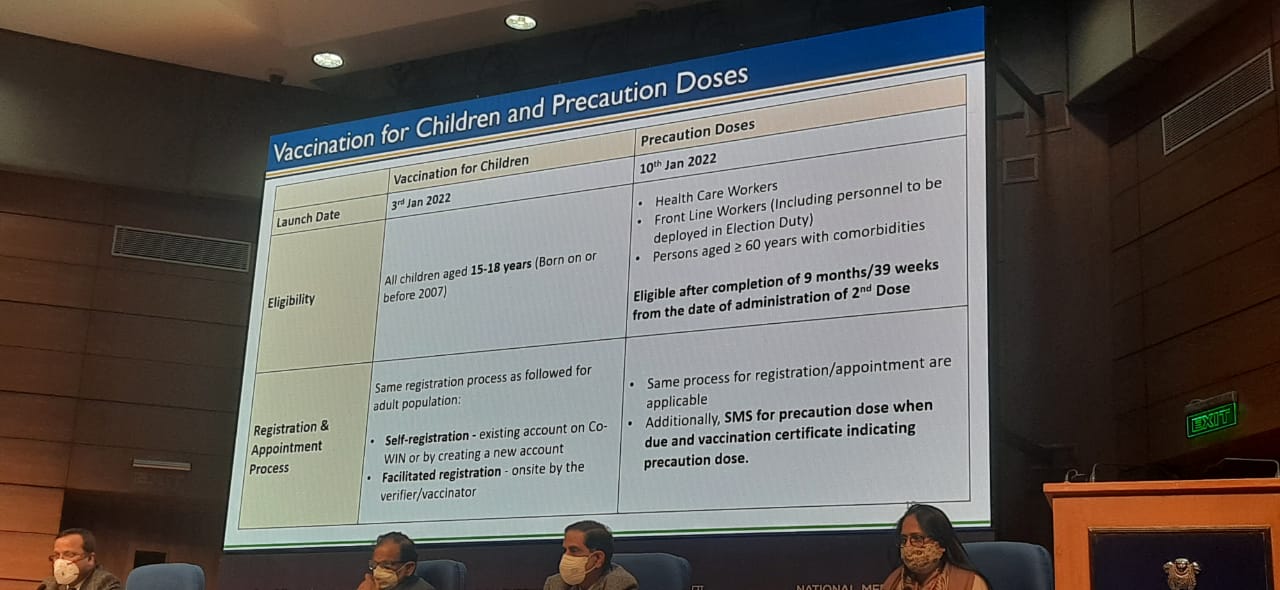 90% of the eligible population have received the first dose of the vaccine while 63.5% of the eligible population have received both the doses: Centre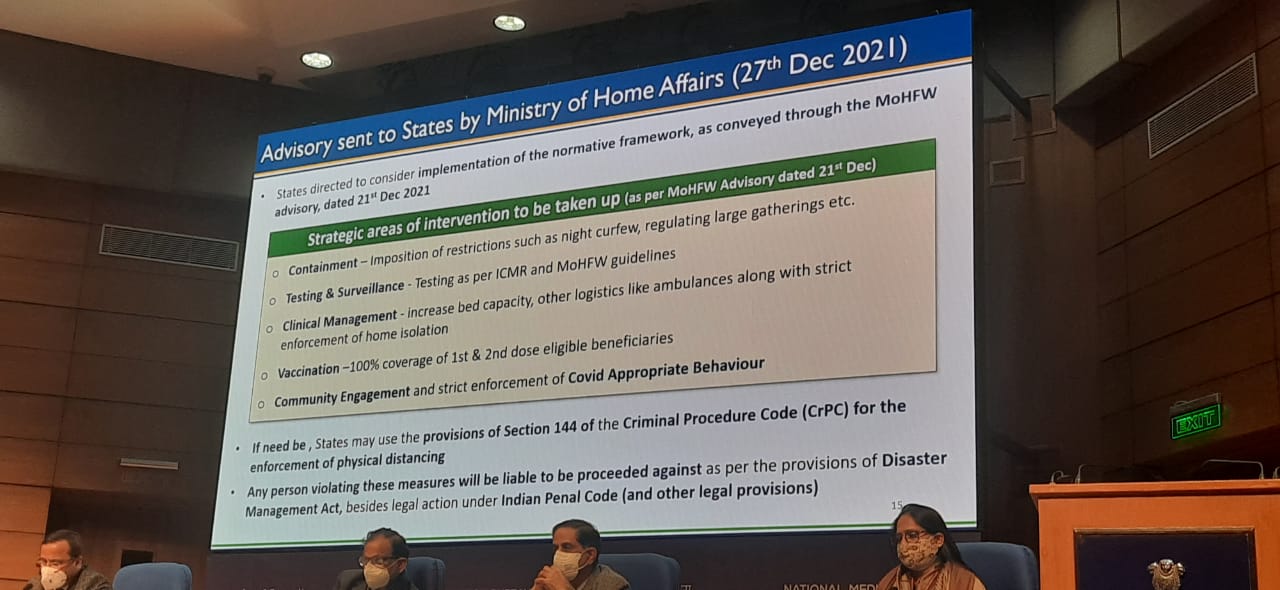 India has so far reported 961 cases of the Omicron variant of which 320 have recovered, leaving 641 active cases of the variant: Centre
The WHO has said that the doubling time of Omicron is two to three days. Early data shows a reduced risk of hospitalisation. Evidence shows Omicron variant has growth advantage over Delta: Centre quoting WHO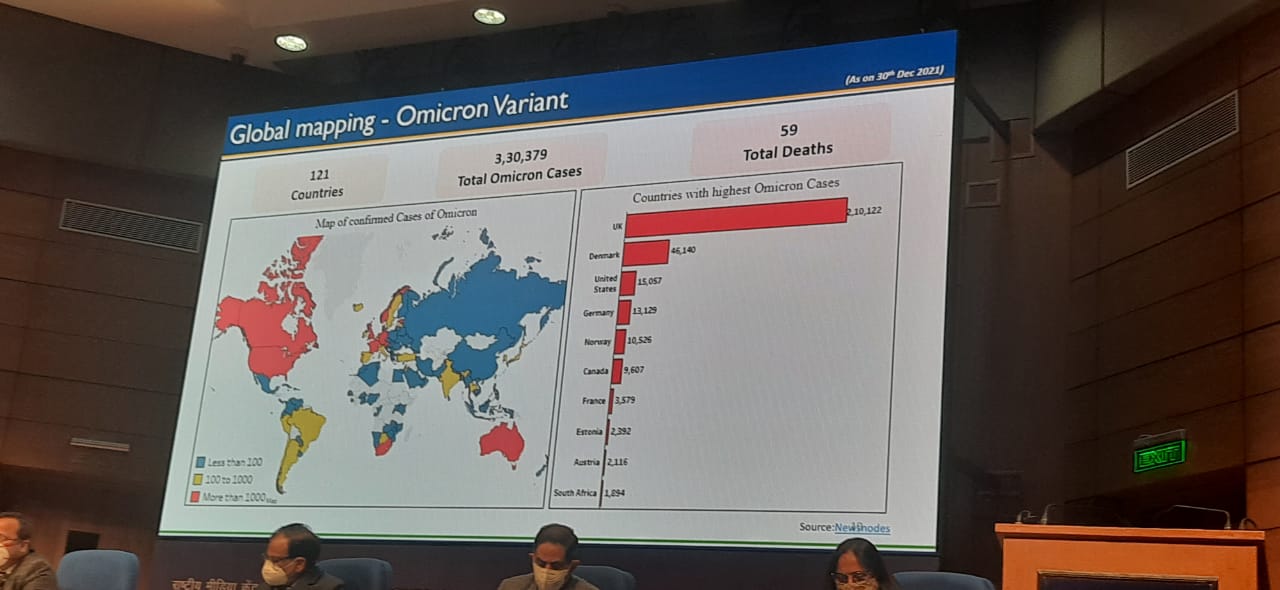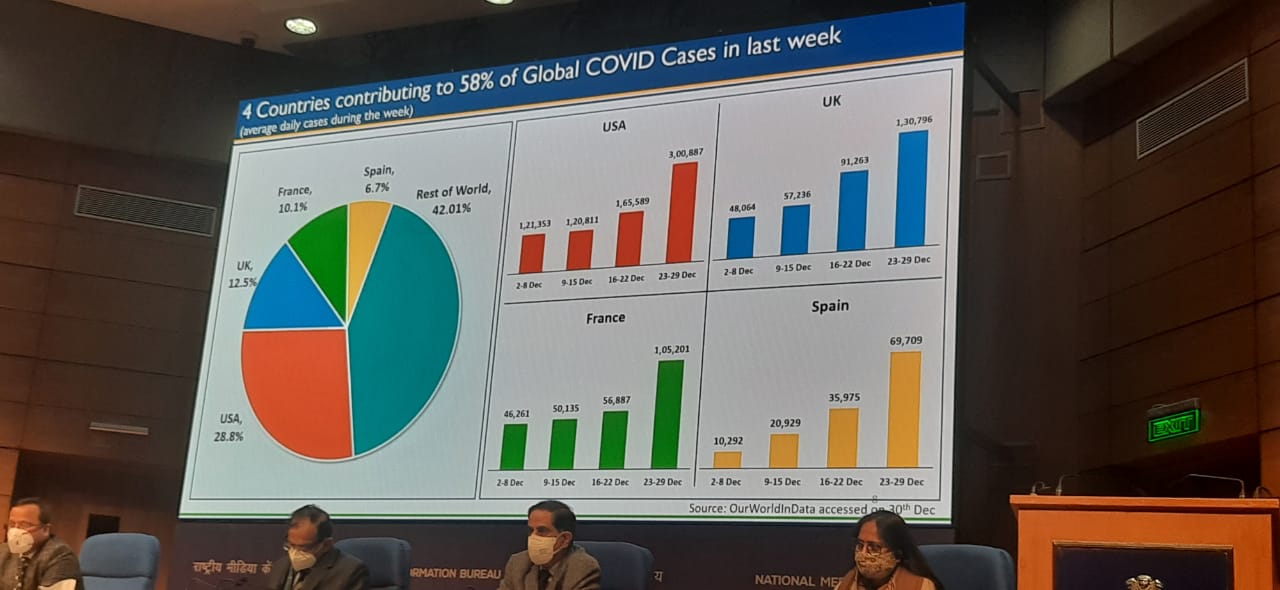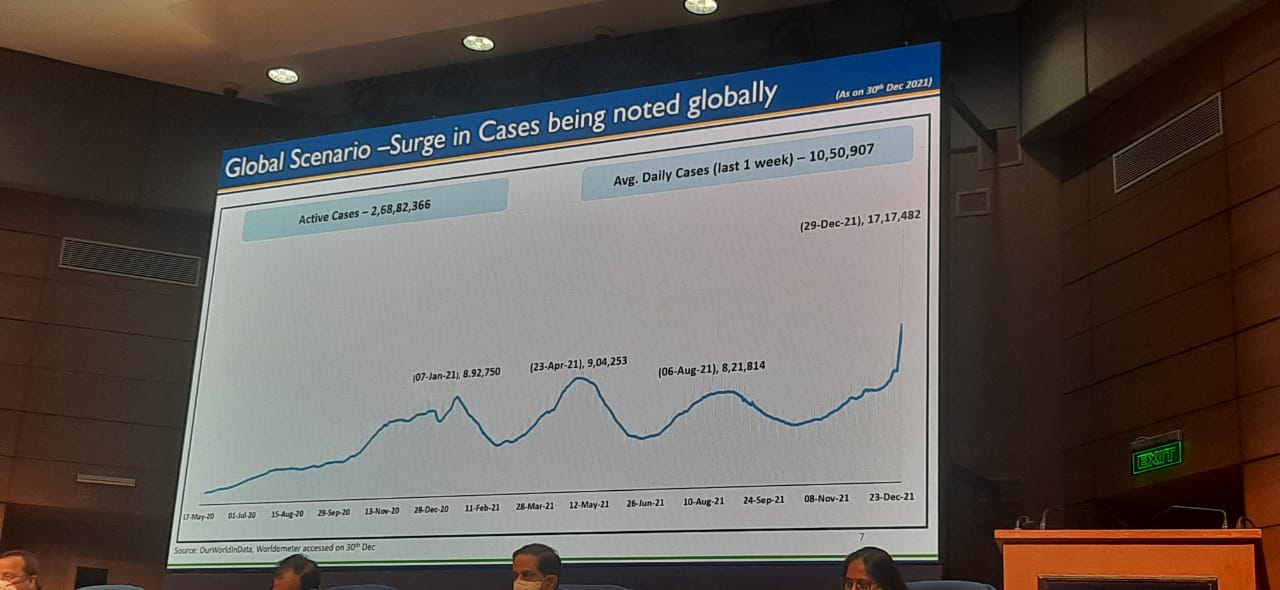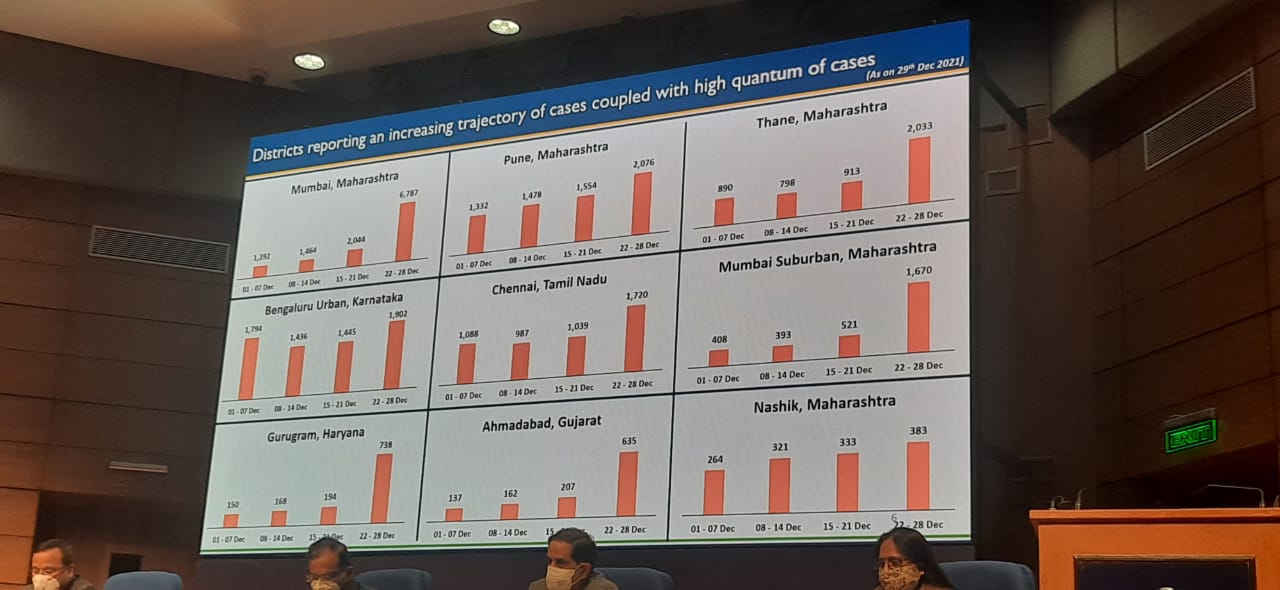 India reported more than 10, 000 daily new Covid cases after 33 days. There is a need for a heightened vigil in view of the sharp increase in cases: Centre
Eight districts have a positivity rate of over 10 percent: six in Mizoram, one in Arunachal Pradesh, and one in Bengal. 14 districts have a positivity rate between 5% and 10%. The positivity rate in Kolkata is at 12.5%: Centre
There are 82,402 active cases in the country and the Covid positivity rate was at 0.92% in the last week active cases: Centre
Coronavirus Updates: Puducherry logs 15 new COVID-19 cases, overall tally rises to 1,29,461
Puducherry registered 15 fresh coronavirus cases during the last 24 hours taking the overall tally to 1,29,461, a senior official of the Department of Health said on Thursday.
The union territory reported a fatality in the last 24 hours ending 10 AM Thursday as the toll rose to 1,881, Director of Health G Sriramulu said in a release here.
The fresh cases were identified at the end of the examination of 2,295 samples and they were spread over Puducherry (13), and Karaikal (two).
The other two regions-Mahe and Yanam-did not report any fresh infections, the Director said.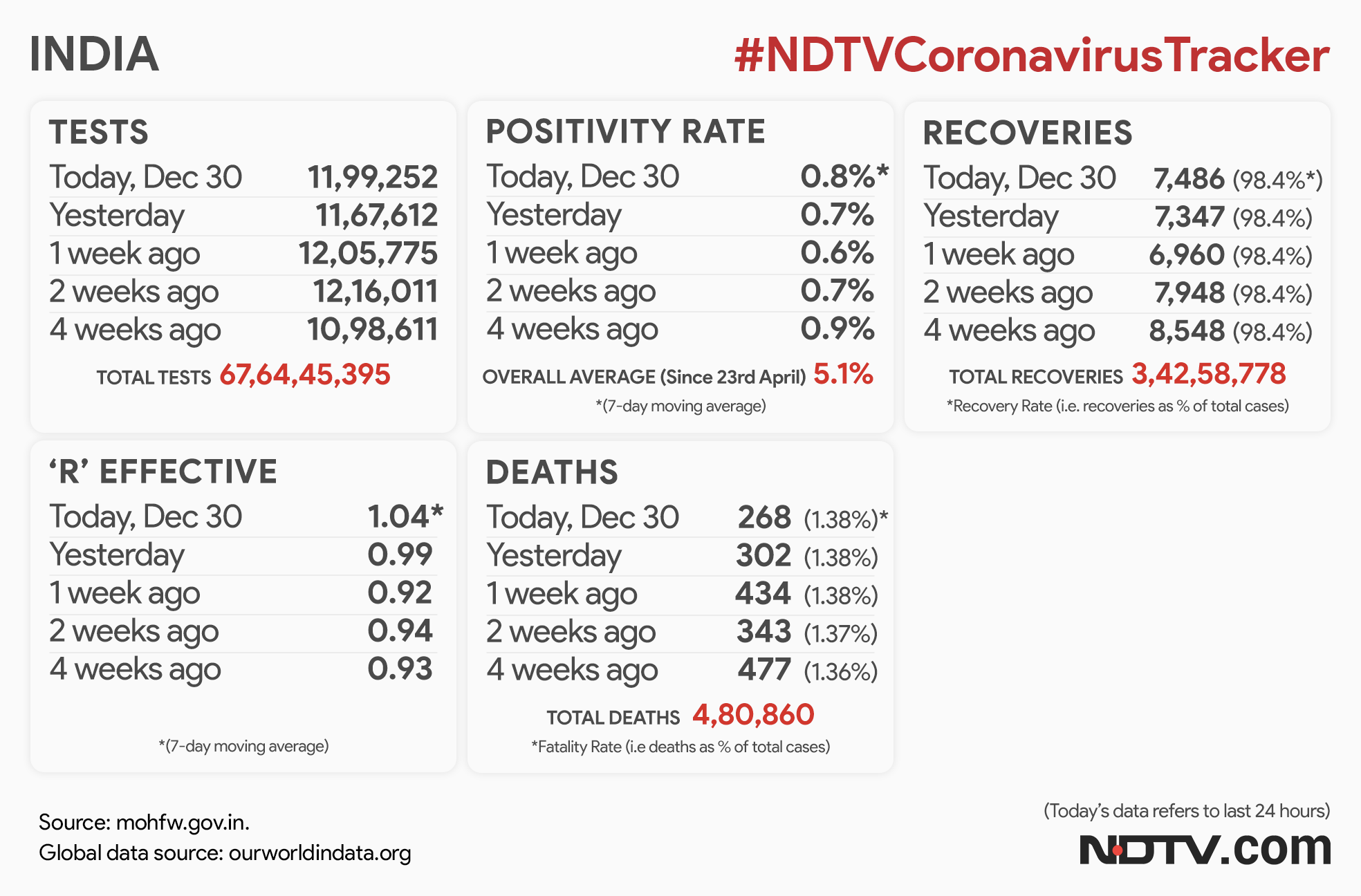 Actor-dancer Nora Fatehi tests positive for COVID-19
Actor-dancer Nora Fatehi on Thursday said she has tested positive for COVID-19 and is under quarantine.
The 29-year-old actor said the virus has hit her "real hard" and she has been bedridden for a few days.
"Hey guys, unfortunately i am currently battling Covid.. it has honestly hit me real hard! Ive been bed ridden for a few days now under doctor supervision (sic)" she posted on her Instagram Story.
Stricter Rules In All Large Cities As India Sees Spike In Cases
Authorities started to impose stringent rules on Thursday to prevent mass gatherings at parties and public venues ahead of new year celebrations as the nation sees a spike in COVID-19 infections.
Night curfews have been imposed in all major cities and restaurants ordered to limit customers, officials said.
However, state authorities were finding it difficult to limit crowding in markets, religious sites and holiday destinations as they were allowed to remain open, the officials said.
The country reported 13,154 new COVID-19 cases and 268 deaths in the last 24 hours, the health ministry said, with urban centres reporting a big jump. It was the highest number of daily infections since October.
Update| Union Health Secretary Rajesh Bhushan writes to Delhi, Haryana, Tamil Nadu, West Bengal, Maharashtra, Gujarat, Karnataka and Jharkhand, advises the States to enhance COVID-19 testing, strengthen hospital-level preparedness, increase pace and coverage of vaccination.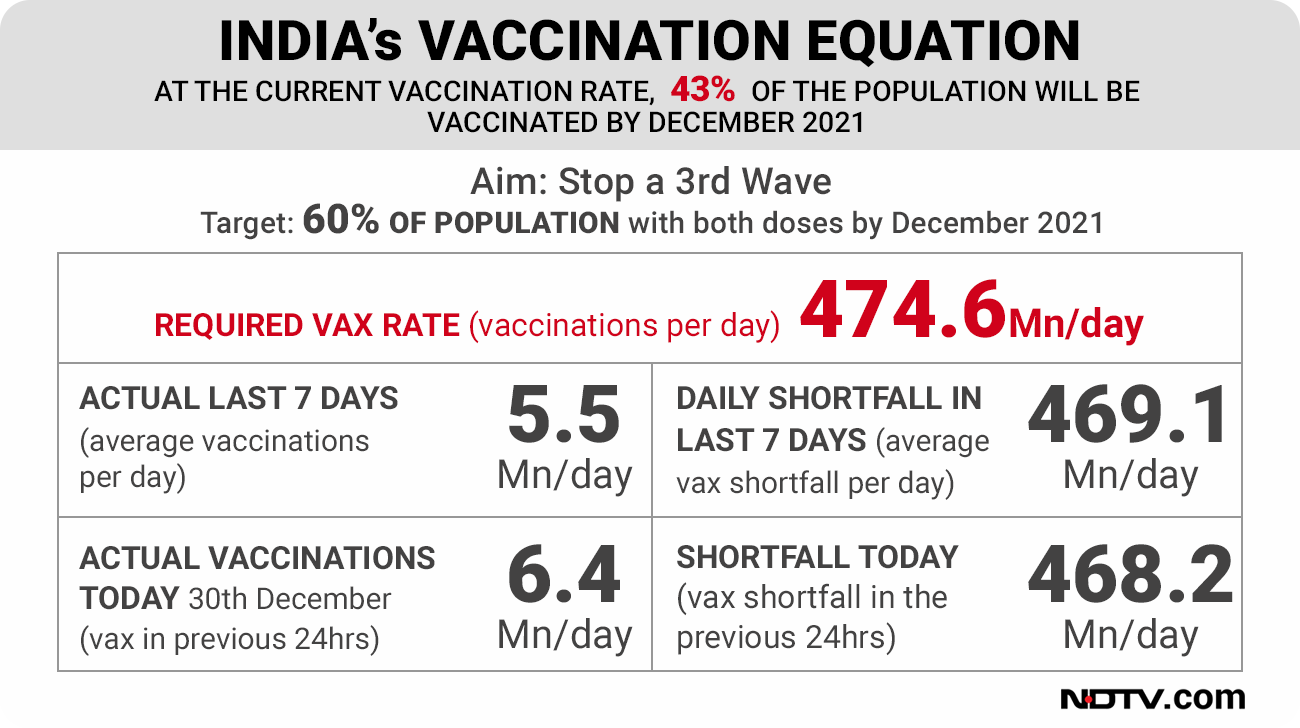 As Delhi Omicron Cases Grow, Over 4,300 Covid Violations In 24 Hours
Over 4,300 violations of Covid-appropriate behaviour were reported from Delhi on Wednesday, as the city scrambles to face a potential avalanche of COVID-19 cases triggered by the Omicron variant.
Data for December 28 shared by the Delhi government showed 4,392 violations were recorded.
4,428 were related to the lack of (or incorrect use of) a face mask; north Delhi reported the maximum number of such violations (700), followed by the east (635) and the southwest (502).
Update| Mumbai's 'Bandra Reclamation- Bandra Wonderland' closed for visitors from today till January 2, due to rising COVID19 cases in the city
Australia relaxes testing rules amid Omicron surge
Australia sought to relieve pressure on overrun COVID-19 testing facilities on Thursday by narrowing its definition of close contacts of infected people and relaxing requirements for tests, as daily cases topped 20,000 for the first time in the pandemic.
Australia is grappling with the rapid spread of the Omicron coronavirus variant after most states eased tough restrictions, and like other countries, is betting on the highly transmissible variant being much less severe than previous variants.
The rules are being relaxed to also stop asymptomatic people being forced into isolation, especially in healthcare, hospitality and airlines, and cut long lines of people forced to get PCR tests for interstate travel or because they have been at a public site with a confirmed case.
"With Omicron, we cannot have hundreds of thousands of Australians and more taken out of circulation based on rules that were set for the Delta variant," Prime Minister Scott Morrison told reporters.
Global COVID-19 infections hit a record high over the past seven-day period, Reuters data showed on Wednesday, as Omicron raced out of control and governments tried to contain its spread without paralysing fragile economies.
"…Means Omicron Spreading In Community": Delhi Minister's Grim Warning
People with no travel history are being infected with the Omicron Covid variant and this suggests it is now spreading in the community, Delhi Health Minister Satyendar Jain said Thursday, sounding a grim warning as the reported number of cases of the new strain near 1,000.
As of this morning there are 961 Omicron Covid cases reported in India and 263 of them are in the national capital, followed by Maharashtra (257), Gujarat (97), Rajasthan (69), and Kerala (65).
Today's figures represent a worrying 23 per cent increase in Omicron cases in just 24 hours.
Researchers at the United Kingdom's Cambridge University have warned of an "explosive" growth of Omicron cases in India within days, and said it is "hard to predict how high daily cases" could go.
In Delhi 46 of 115 samples sequenced so far have tested positive for the new strain, Mr Jain said, adding that there were 200 COVID-19 patients (of all known strains) in hospital at this time.
Delhi reports maximum cases of Omicron, country's tally rises to 961
India recorded the highest single day rise of Omicron infections with 180 fresh cases, taking the total tally of such infections in the country to 961, according to the Union Health Ministry data updated on Thursday.
The 961 cases have been detected across 22 states and UTs so far, and 320 people have recovered or migrated.
Delhi recorded the maximum number of 263 cases followed by Maharashtra at 252, Gujarat 97, Rajasthan 69, Kerala  65 and Telangana 62.
The daily rise in COVID-19 cases crossed the 13,000 mark after around 49 days, taking the total tally to 3,48,22,040, while the active cases increased to 82,402, according to the data updated at 8 am.  The death toll has climbed to 4,80,860 with 268 fresh fatalities, the data stated.
No New Year parties in open or closed spaces in Mumbai: Police
In the wake of emergence of the new 'Omicron' variant of COVID-19, the Mumbai Police have prohibited New Year celebrations and gatherings in any closed or open space, including hotels and restaurants, an official said on Thursday.
The orders were issued on Wednesday under Criminal Procedure Code (CrPC) Section 144 by Deputy Commissioner of Police (operations) S Chaitanya.
The order will be in force from Thursday till January 7, 2022, the official said.
The police order prohibits all New Year celebrations, programmes, functions and gatherings in any closed or open space, including hotels, restaurants, bars, resorts and clubs.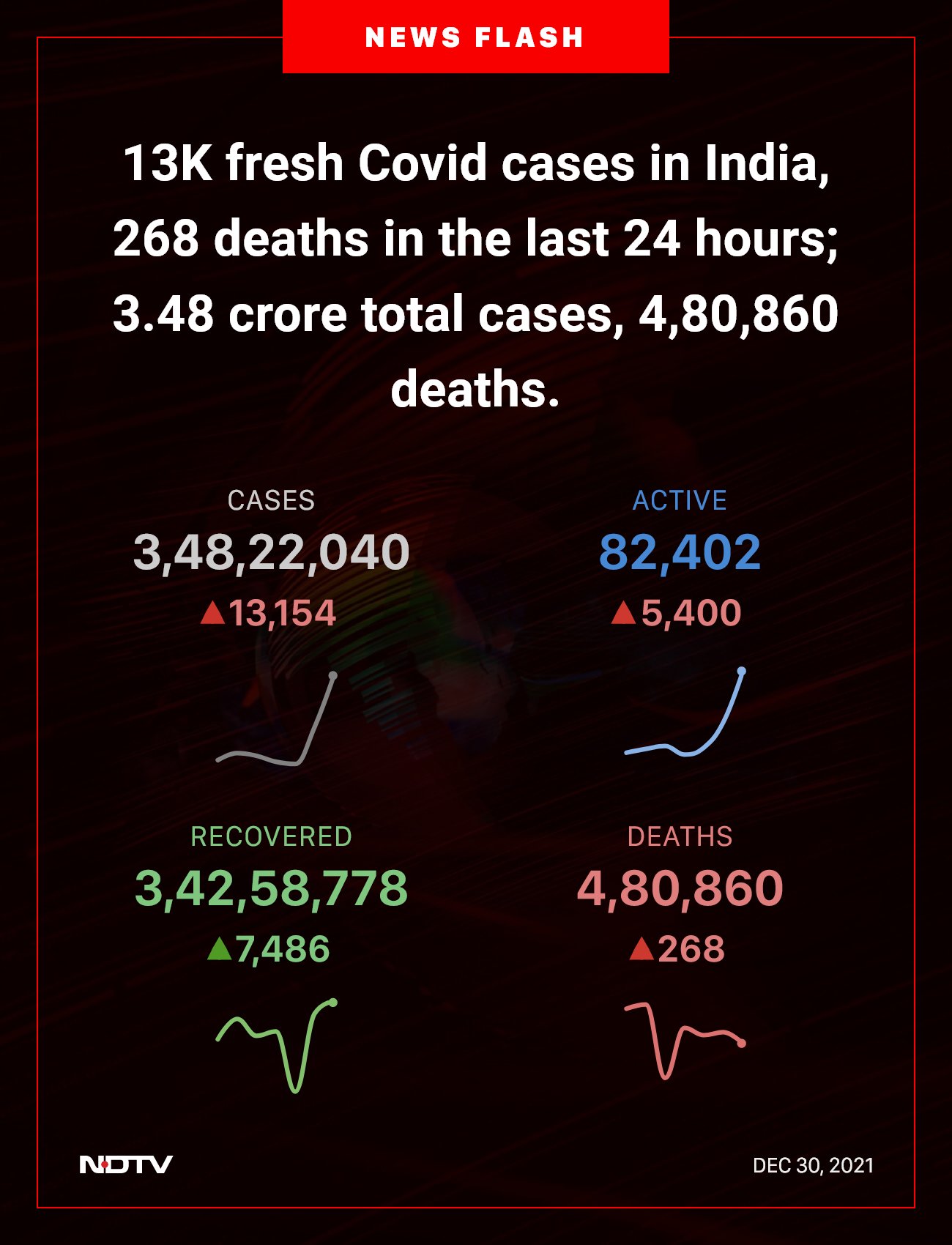 Coronavirus Updates: 493 new COVID-19 cases in Thane; over 100 per cent jump in one day
Maharashtra's Thane district has reported an over 100 per cent rise in new COVID-19 cases in one day.
The district recorded 493 new coronavirus cases on Wednesday as compared to 241 on Tuesday, taking the overall infection tally here to 5,73,173, an official said on Thursday.
The virus also claimed the life of one more person, which raised the death toll in the district to 11,616, the official said, adding that the COVID-19 mortality rate in Thane stood at 2.03 per cent.
In neighbouring Palghar district, the COVID-19 case count has gone up to 1,39,312, while the death toll has reached 3,320, another official said.
Just In| 13,154 fresh COVID-19 cases in India, 43% higher than yesterday
Houseboat tourism restarts after a long time in Kottayam
Situation has improved after the pandemic but footfall isn't high. 70% tourists are from Kerala & 30% are from outside Kerala. After Omicron, bookings for January have also dropped: a houseboat business employee.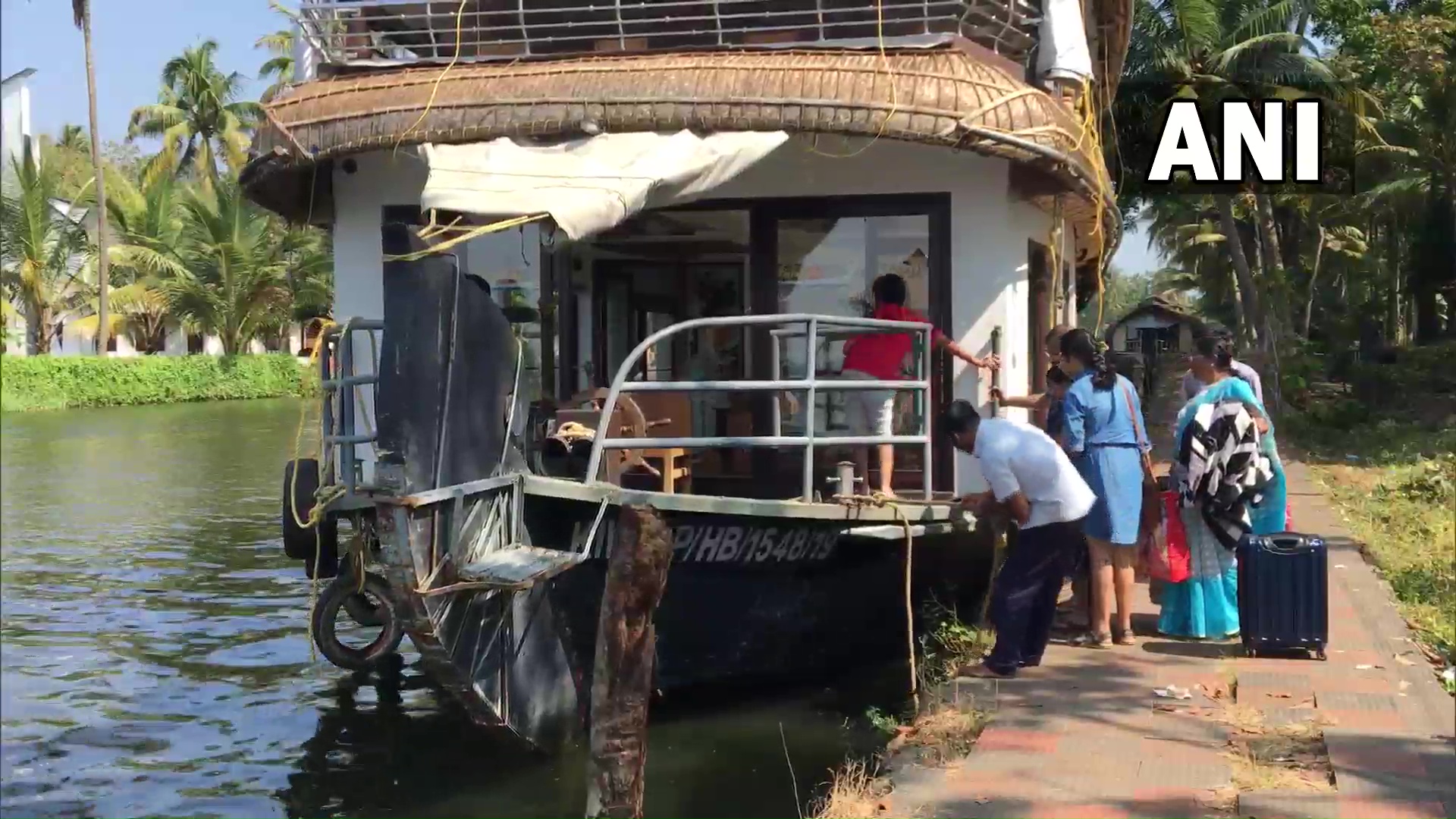 Update| Section 144 imposed in Mumbai starting from today till 7th January 2022, in view of rising Covid cases 
Police prohibit New Year's celebrations, parties in any closed or open space incl restaurants, hotels, bars, pubs, resorts & clubs from Dec 30 Dec till Jan 7.
Update| Mizoram reported 114 recoveries, up to 5 pm on December 29. Active cases 1369
Coronavirus Updates: Mathura reports 6 fresh COVID-19 cases, 3 among foreign-returned
Six people including a 52-year-old man who returned from Uganda were found infected with COVID-19 in the district in random sampling, officials on Wednesday said.
"Amit Jain who came from Uganda a week before was found infected with Covid-19," Dr Bhudeo Singh, the Rapid Response Team In-charge, said.
Another two, Amit Pathak (38) and Deepika Chaturvedi (32), who returned from Singapore about two months ago were also found infected with the virus, the official said.
All the infected have been home quarantined and the areas they are living in have been converted into containment zones, he said.
Vaccines Still Proving To Be Effective Against Omicron: WHO Chief Scientist
Emphasising that the Omicron variant is infecting both vaccinated and unvaccinated people worldwide, WHO Chief Scientist Dr Soumya Swaminathan has said that it appears that vaccines are still proving to be effective because even though the numbers are going up exponentially in many countries, severity of the disease has not surged to a new level.
"As expected, T cell immunity holding up better against #Omicron. This will protect us against severe disease. Please get vaccinated if you have not," said Ms Swaminathan in a tweet on Wednesday. Either vaccines or prior infections with COVID-19 trigger human T cell response.
Explaining factors that account for vaccine's effectiveness against COVID-19, Swaminathan virtually at the WHO press briefing on Wednesday said that vaccine effectiveness varies a little bit between vaccines though the majority of all of the WHO Emergency Use Listing vaccines actually have very high rates of protection against severe disease and death at least till the delta variant.
Source link